Personalized stamps
Personalized stamps first appeared in Austria in 1999. They are valid postage for that country but do not feature official designs released by an local postal service. Rather, licensed companies or the post office itself allow customers to submit a photo that appears on some or all of the stamp. The post office receives the usual cost of a stamp and the issuing company receives an additional fee. Sometimes a charity is involved which can raise the price even further.

Because the maximum number of personalized stamps is only determined by customer interest, the major stamp catalogues do not list them. Fortunately we have no such limitations and so we are happy present this list so that history will not forget the stamps that people have created.

Please e-mail me with the URL of any additional AIDS-related personalized stamps you find.

Oh, lest I forget, check out The Smoking Gun's Stamps of Approval page if you want a laugh at what has been printed on personalized stamps.
Austria
I have found three Austrian personalized stamps so far, the first two in the collection of Anne from Austria.

The first stamp is a picture of model Heidi Klum with Eric Haas, director of Philately for the Austrian postal service. Life Ball is, of course, Austria's big fundraiser for AIDS. Heidi Klum was the celebrity star of the 2005 event.

The second stamp is a bit more unusual. The web address on the condom no longer leads to anything, but in 2006 it lead to a website for a Kondome Taxi. The website is no longer in operation, so I have linked to it via the Wayback Archive site.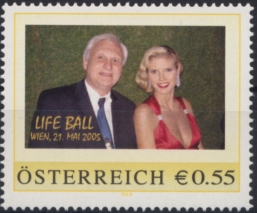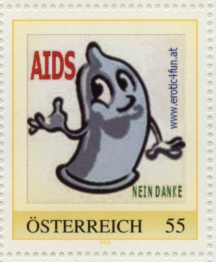 The third stamp was printed in honor of Life Ball 2007, an annual fashion-themed fundraiser for AIDS. Unlike previous years, an official stamp was not released in 2007. This stamp features model Nadja Auremann. If a Life Ball stamp was released in 2008, official or personalized, I have not heard of it.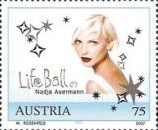 China
I have not yet found any individual personalized stamps from China, but I have come across these interesting sheets. The first sheet says "Live, Let Live" which is an abbreviated version of the theme for the 2002 and 2003 World AIDS Days. Each of the individual stamps has a year written on it along with the theme (or a shortened version thereof) for that year's World AIDS Day.

I have often found these sheets of stamps available for sale on Delcampe.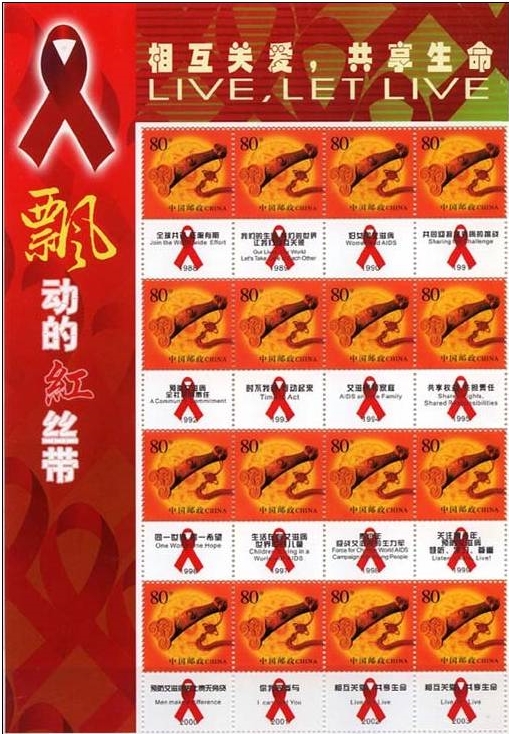 The second sheet was issued to commemorate the 1st anniversary of the establishment of the China Centre for Disease Control. The top of the sheet contains a quotation from Chairman Mao, "Let us mobilise together to improve sanitation, eradicate epidemics and improve sanitary level". The lower-right stamp contains an AIDS ribbon.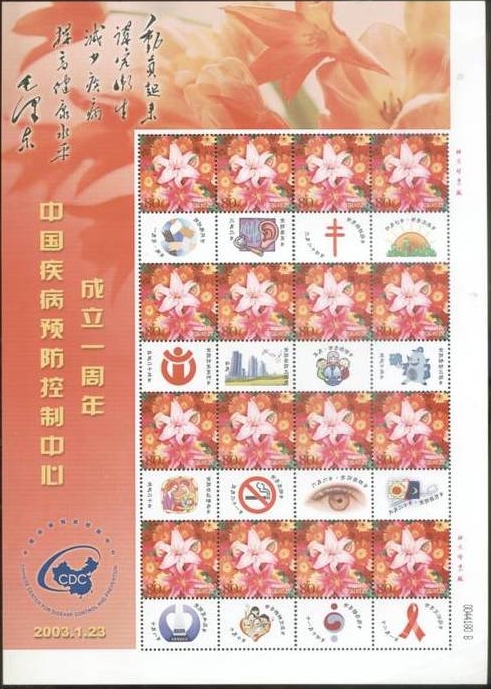 I bought this highly produced booklet on an auction website a while back. Someone loosely translated the producer as the Guizhou Provincial Disease Prevention and Control Center. The stamps themselves are Scott 3261, which is notable for being sold on sheets on which users can personalize the attached labels. In this case, the labels have been personalized for various health initiatives or organizations.

The booklet is 8.5 inches (21.5cm) tall and 11.5 inches (30.5 cm) wide. It comes in a large glossy envelope with the same front cover as the booklet. The booklet indicates it was published in 2006.

Front and back covers: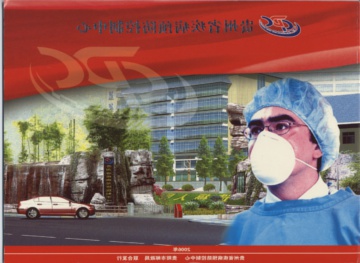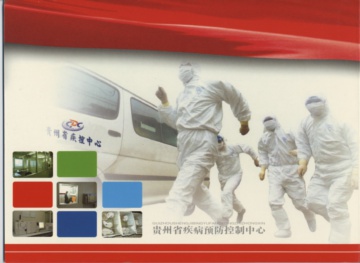 Left and right pages: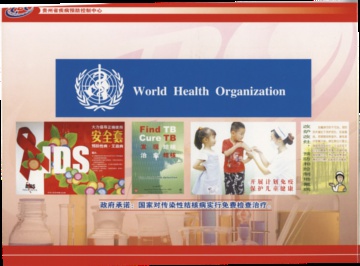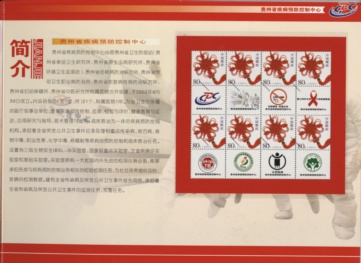 The large block of text reads: "Guizhou Centre for Disease Control was formed on 30 Aug 2002 from the merger of several organisations: Guizhou Health Disease Prevention Station (Guizhou Food Safety Research Centre, Guizhou parasites research centre, Guizhou Environmental Health Monitoring Station), Guizhou Research Centre for the Prevention of Tuberculosis, Guizhou Centre for the Prevention and Cure of Work related illnesses, Guizhou Skin Diseases Research Centre, Guizhou Health Centre for Women and Children, and Guizhou Chinese Medical Hospital. The centre has offices in 21 counties and maintains a hospital. The GCDC is an organisation under the purview of the provincial Department of Health. The GCDC has various responsibilties under its remit including the control, monitoring, testing and evaluation of diseases. It is also responsible directing health education, practical research, technical management and treatment of diseases. The mission of the GCDC is to implement emergency response plan for health related incidents in the province, as well as the prevention and treatment of infectious diseases, local illnesses, food poisioning, (the effects of) work related dangers, chemical poisoning and nuclear radiation. The GCDC maintains a BSL-3 laboratory, a national - level laboratory, AIDS treatment laboratory and Foundation laboratory. The laboratories contain a large inventory of modern testing equipments from China and abroad enabling the centre to conduct testing and evaluation work. Hence, the centre is able to provide timely and accurate health related data the community. The centre has the infrastruture to ensure the efficient report of infectious diseases and public health related incidents thus ensuring that it is able to perform its mission of monitoring the state of infectious diseases and public health related incidents."

Thanks to Richard on the Usenet newsgroups for translating the stamp. And thanks to Tony for identifying it as a personalized stamp.

Close-up of the sheet of stamps and the AIDS stamp: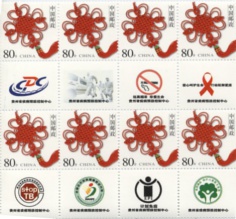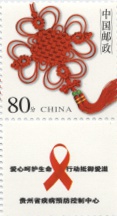 France
I have found a number of French personalized stamps about AIDS. All are listed on this French website. (Click on "Le Sida" on the left side). The second and third stamps feature photos by Herb Ritts, a gay photographer that died of AIDS in 2002. Ritts was famous for photographing male and female nudes. The second through sixth stamps are on sheets with backgrounds identical to the first one.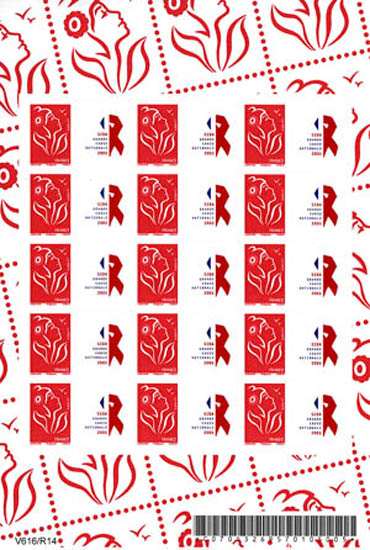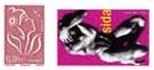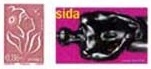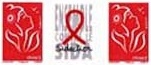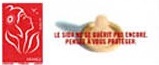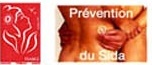 I have no idea who designed this one. I found this available for sale on Delcampe.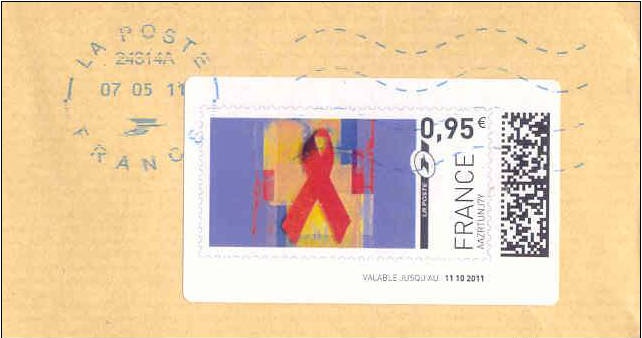 Greece
The faces on the left side of the stamp pair is one of eight or so pre-made stamp designs. The right-part can be customized as people see fit. I have included both "before" and "after" versions of the personalized stamp.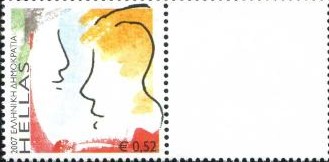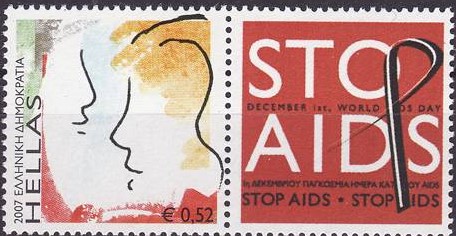 Israel
According to Tibi Yaniv of the Israel Philatelic Federation, this is personalized stamp is actually a generic stamp with a personalized attached tab. Articles on the web indicate that the tab design was created by the Jerusalem AIDS Project (JAIP) for World AIDS Day in 2003. The main post office in Jerusalem even did a special postmark for the event. The image features HIV+ singer Achinuam Nini ("Noa") and Inbal Gur Arieh, an Israeli AIDS activist. The two were featured on an AIDS awareness campaign throughout the city (and indeed, Israel).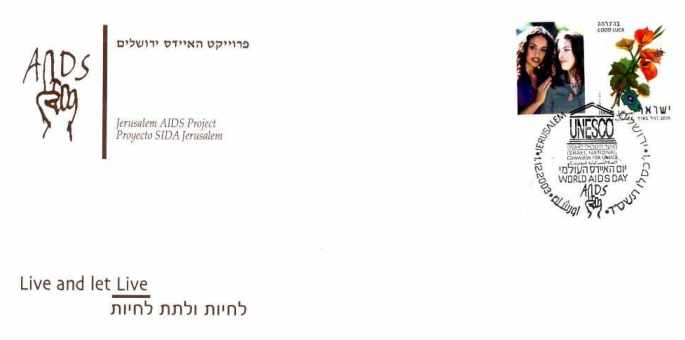 Netherlands
This personalized stamp was used to promote and raise money for a Dutch AIDS charity.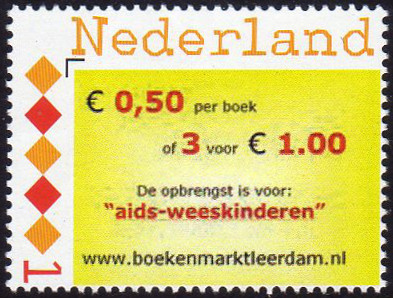 Thailand
This sheet was designed to promote an AIDS foundation whose logo is in the lower-left corner. It is unclear if the foundation logo was part of what is personalized, or if the sheet displays it regardless of what stamps are pictured. It is thought to be a 2012 release but this is not confirmed.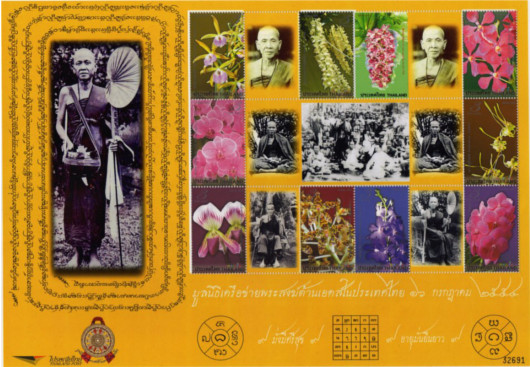 United States
And now the biggie. There are tons of personalized US stamps about AIDS floating around. The Global Fund did a fundraiser for a while featuring several neat AIDS stamps. Alas, these stamps are no longer for sale.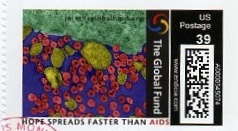 There are lots of cool ones on Zazzle. These were designed by H. G. Robert. Unfortunately, not all designs are still available his Zazzle store.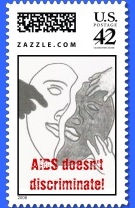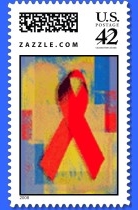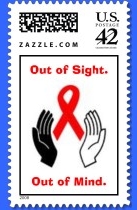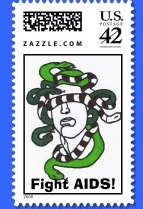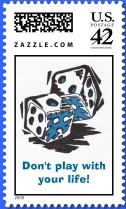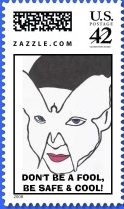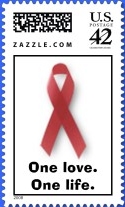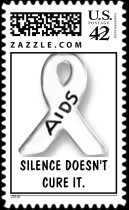 These stamps were designed by FaceAIDS, a charity decided to organizing students in Africa to promote AIDS education. You can find them for sale on their Zazzle page. Apparently the charity receives 15% of the proceeds from sales of those stamps.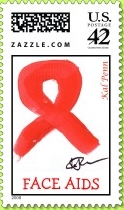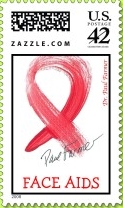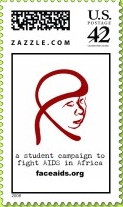 This design features the Aldo YouthAIDS "HEAR" tag. At least 82% net proceeds go to support the AIDS Research Institute at UCSF and local New York State HIV/AIDS care facilities.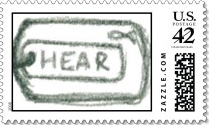 These two are from Clopez1988.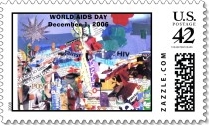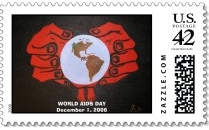 The below one is from Kokobaby.




The below one is from Dmcnair.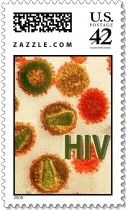 The below one is from Kabsannie.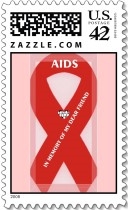 The below one is from Soccerisalive.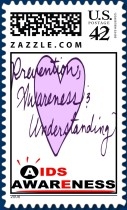 The below one is from Rikaberg.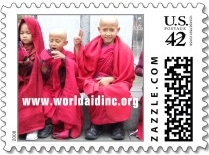 The below one is from Dkwsnake1.




The below one is from Seanr1978.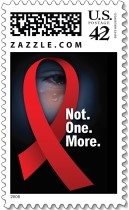 These are from Jamieco. The third stamp, the red and yellow striped ribbon, refers to a co-infection between HIV and Hepatitis C.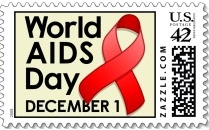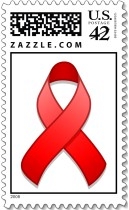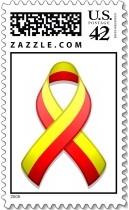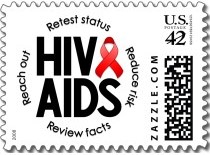 These cute stamps are from Animals4acause. He offers the same designs with either AIDS (pictured) or HIV.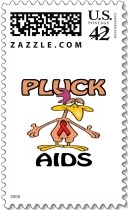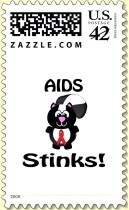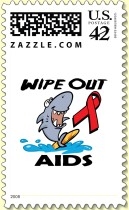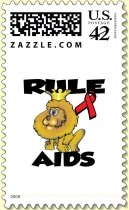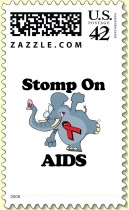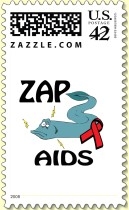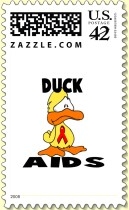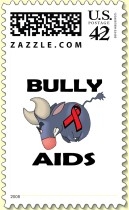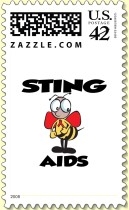 The below one is from Yanmos.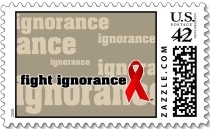 The below one is from Causeican.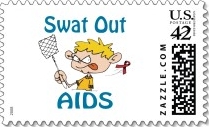 The one is an interesting combination of the leather pride flag with an AIDS awareness message. It was designed by Ripetshopboy.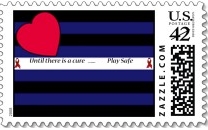 The below one is from
AidsAwareness
.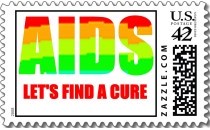 The below one is for the
Tears for Hope Foundtaion
.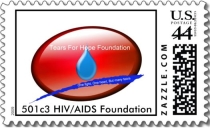 These are from an artist who calls his/her business
Awareness Gifts
. Please note that there are dozens of variations on the design that singles out a certain relative (daddy, mommy, cousin, boyfriend, niece, son, etc.)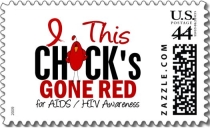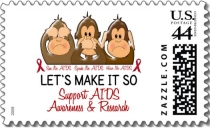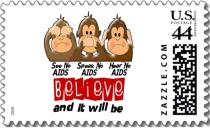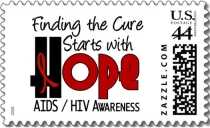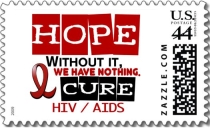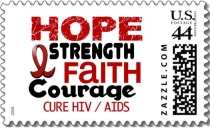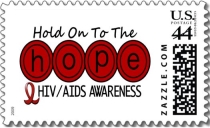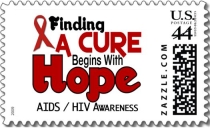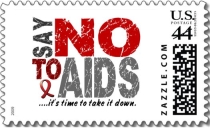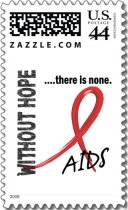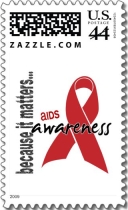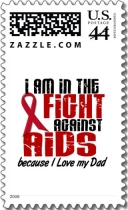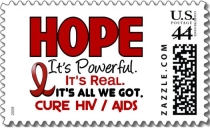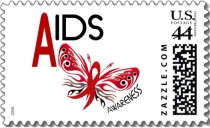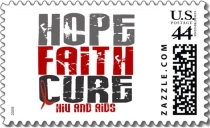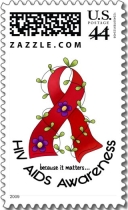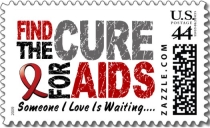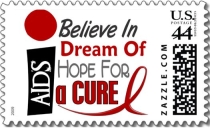 A similar artist (there are many who do this on Zazzle) is
Gifts for Awareness
. This artist too has many variations, often replicating an identical design but substituting for "believe" words like "advocate", "hope", "faith", "cure", etc. And again, you can substitute in other types of relatives instead of brother.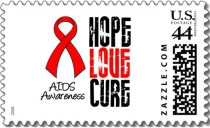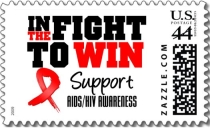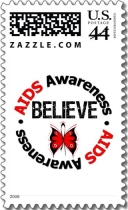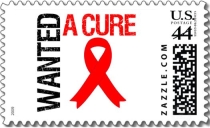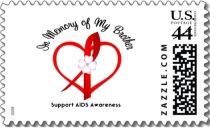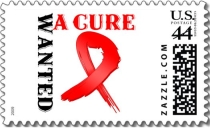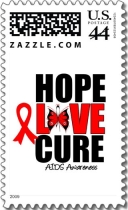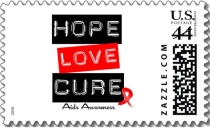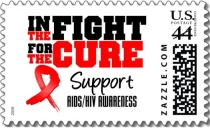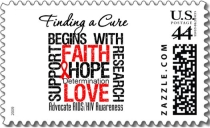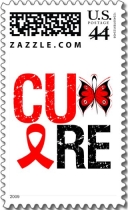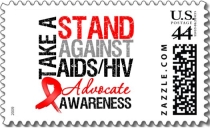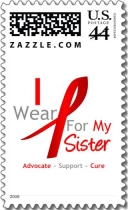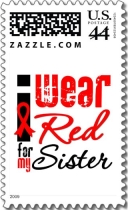 Then there's this one from
Mike3488
.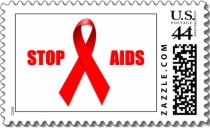 These two are from
CelebrationZazzle
.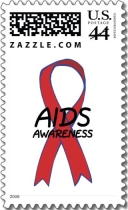 This one is from
TeaZazzle
.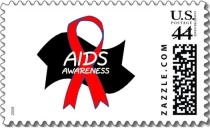 This one is from
Barbara021
.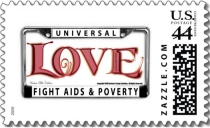 This classic design is from
Edissler
.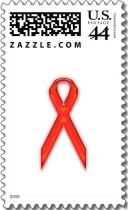 A slightly more artistic version of the same from
Pmatthew25
.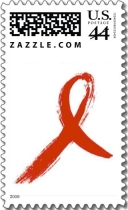 An admirable message from someone with little graphics design training,
Stamped
.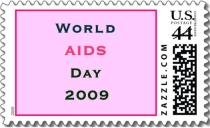 These are for the Anthony Chison AIDS Foundation and was created by
AIDSfoundation
.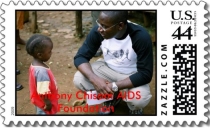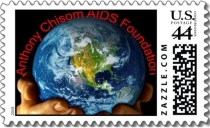 These feature a message about HIV testing and was created by
Soulkreationz
.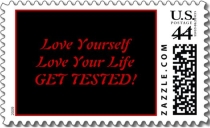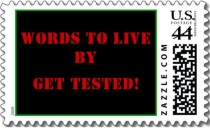 This one has got to be one of the original ones I have seen. It was designed by
PrideFamilies
.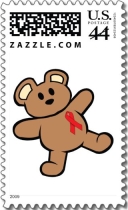 Proceeds from this stamp are said to help AIDS orphans in Africa. It was created by
Karenande
.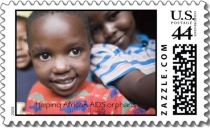 These stamps were created by
Markthaler
.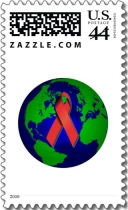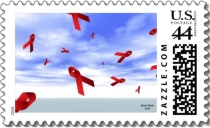 Two stamps from
BlueLotusArt
.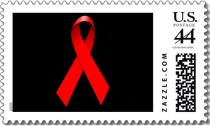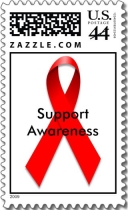 A stamp from
Shopforawareness
. As with so many other stamps, the first design is available in a wide variety of relations (aunt, gransdon, etc.).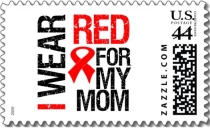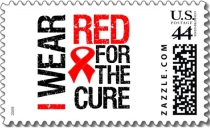 Two personalized stamps, this time from
Awarenesstshirts
.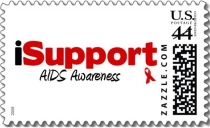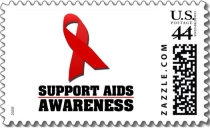 A survivor stamp from
REPetshopboy
.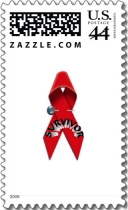 A survivor stamp from
FelicitasArt
.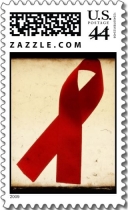 An AIDS stamp with a slightly humorous apporach from
Shopaholicchick
. The HIV/HCV coinfection refers to hepatitis c.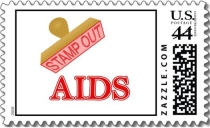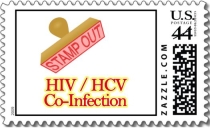 A "traditional AIDS stamp" from
Cancerfight
.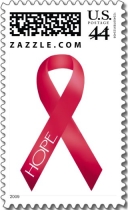 The font on this stamp from
Jlp2004
makes it look almost Biblical.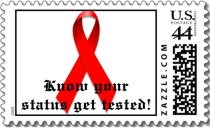 A stamp from
Realitees
.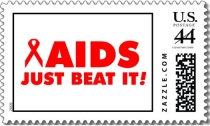 Several very unique designs by
Stefanie Rski
.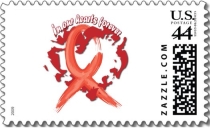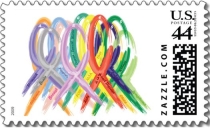 A line in the musical RENT says "Actual reality, ACT UP, fight AIDS". I'm not sure if that's where this stamp comes from or if someone else invented the saying, but one does wonder. "Act up" obviously refers to the AIDS Coalition to Unleash Power, an AIDS activism group active in the 80's and early 90's. These stamp are from
Jen Mabe
.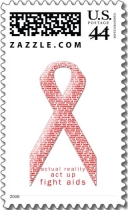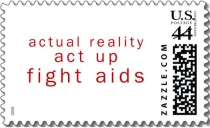 Two designs by
Bbdesignsco
.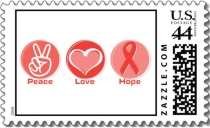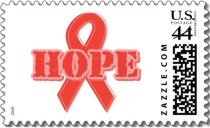 A red ribbon stamp from
Serendipitees
.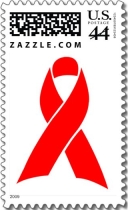 A fun little lineup stamp by
SuperBug
.