Not about AIDS
These stamps have been mistakenly cited by collectors or dealers as pertaining to the subject of AIDS. I am placing them on this list in the hopes of debunking any confusion surrounding these stamps.
Albania, 2002
Scott number unknown
This first day cover appeared for sale on eBay in December, 2008 and was advertised as an AIDS-related issue. The ABO obviously refers to blood type, but beyond that I could find no connection with AIDS. I immediately contacted the seller to ask what I was missing. He admitted he wasn't sure what the connection was either, but said that the person he bought it from claimed it was AIDS-related.
He planned to continue selling it as an AIDS issue, so I thought I would post it here to AIDS collectors that it isn't what it is advertised to be. More than likely it's a stamp about blood donation or somesuch.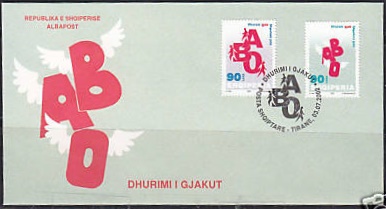 Bangladesh, ?
Cinderella issue
This stamp is being incorrectly advertised on Delcampe as an AIDS stamp. A Google search revealed numerous websites that refer to this as an anti-cancer stamp. There are several similar versions of this, but as near as I can tell none of them are about AIDS.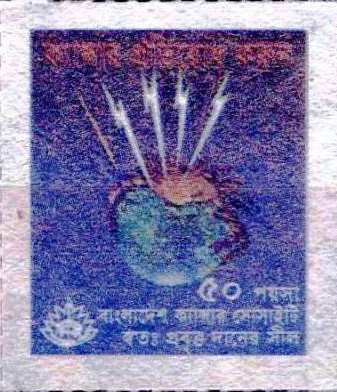 Belgium, 2006
Scott 2161
This stamp pictures the Institute of Tropical Medicine in Antwerp, but in a year of searching I have been able to find no significant connection between it and AIDS. The institute does research AIDS and has a center for the study of HIV and STDs, but so do dozens of other research centers around the world. I have not found any dealers selling it as an AIDS stamp, but somehow it found its way onto the GLHSC AIDS stamp list (which is now maintained by this website) when I first examined it in early 2007.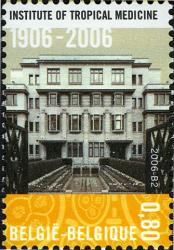 Bosnia, 2003
Scott number unknown
This stamp is being sold on Delcampe as an AIDS stamp, but when asked the seller stated that the writing says "droga nema poslijednju rije" ("drugs haven't the last word"). There is no obvious (or even subtle) connection to AIDS on this stamp.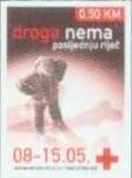 Croatia, 2010
Scott number unknown
This stamp is being sold on Delcampe as an AIDS stamp, but is in fact a stamp about bone marrow donation.
Cuba, 2003
Scott number unknown
Several times this stamp has been advertised as an AIDS issue although for the life of me I can't figure out why. The stamp says it is to honor the 16th Municipal Congress of Sexology. The writing on the right side is simply the name of the artist and the title of the featured artwork.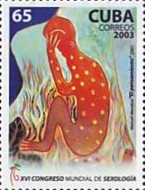 Denmark, 1992
Scott 968-71
For a reason that will probably never be known, the Blair Henshaw collection on the web lists the upper-left (Scott 968) of these stamps as being an AIDS stamp. Not seeing any direct connection to the disease, I e-mailed Ivor Gjørup, the cartoonist behind the stamp and the author of the Danish comic "Egoland". Ivar sent back a message saying he was unaware that his stamp was in Blair's collection and had no idea why it would be there. He was aware that Denmark released this 1996 stamp about AIDS, but knew of no other connection between Danish stamps and AIDS.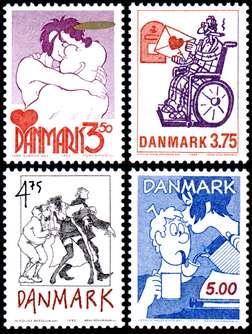 Ethiopia, 1991
Scott 1314
This stamp was briefly on the stamp list of the now-defunct AIDS on Stamps Project newsletter. Lower resolution scans suggested there were AIDS ribbons on it, but a larger scan revealed that it was an X, not a ribbon.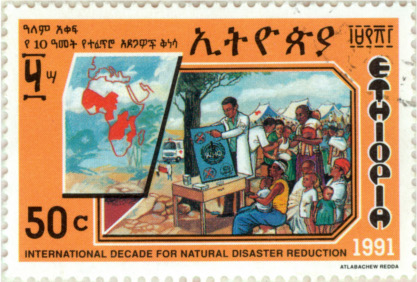 France, 2000
No Scott number
I initially found these on Delcampe where someone was selling a sheet 64 of these. After two hours of scouring French website and translating vast volumes of text, I have concluded these are non-valued and unofficial postal labels. Think of them as the World AIDS Day equivalent of Christmas or Easter seals. Whether these World AIDS Day labels were sold as a fundraiser or simply given away to promote awareness is uncertain, but they are not official stamps valid for postage.
If anyone can provide a better picture of this label please send it my way. If I ever see a better scan and determine these to definitely be cinderella issues, I will move them to the cinderella page.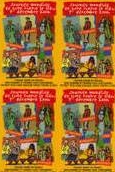 Guinea-Bissau, 1999
Scott numbers unknown
These stamps have been mistakenly posted on an another AIDS collector's website as being about AIDS. In fact they are releases about heart health, not AIDS. Guinea-Bissau did release an AIDS stamp in 1999, but it was not these stamps.
Italy, 2006
Scott B49
This is a breast cancer awareness stamp. Both the Universal Postal Union and the Italian post office website (.pdf format) list the subject as cancer, not AIDS.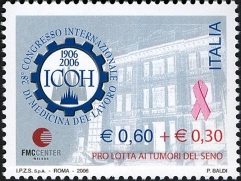 Hungary, ?
Scott number unknown
This stamp has found itself on some lists of AIDS stamps. It isn't an AIDS stamp per se, but it is tangentally related. The fellow being honored on this stamp is Moritz Kaposi, the person who initially described Kaposi's Sarcoma in 1872. Kaposi's Sarcoma is, of course, an illness that many PWAs have dealt with. In the 1980's it was aggressive and often lethal. In the 2000's it can be more of a chronic, unsightly condition without the life-threatening consequences.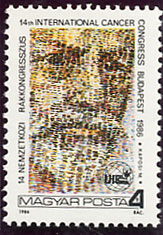 Kuwait, 1983
Scott 912-914
This is a stamp about viruses in general, but is not AIDS specific. In 1983 the scientific community (much less the wider global community) were only beginning to react to AIDS. It is much too early for a stamp to be about AIDS in spite of this being on certain collectors' lists.

Libya, 1986
Scott 1303-4
These stamps were released for World Health Day in 1986, two years prior to the earliest known stamp about the AIDS epidemic. While the design certainly suggests AIDS could be an underlying theme, there is no overt evidence (either in the stamp or context surrounding its release) to suggest AIDS awareness was an intended message. If anyone has any information to the contrary, please let me know so I can recategorize it accordingly.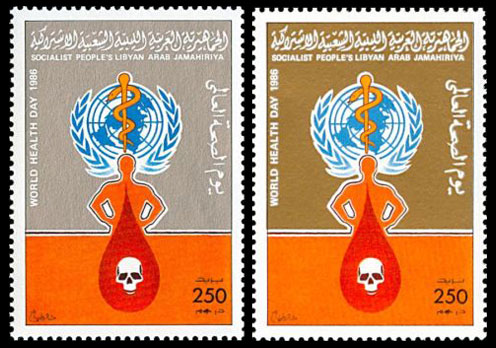 Macedonia, 2007
Scott number unknown
This is floating around with at least one dealer advertising it as an AIDS issue. I'll try to straighten him out next time I run into his site (can't remember who it was). In the meantime I'll list it here. Translation means: FACE TO FACE WITH MALIGNITY DISEASES.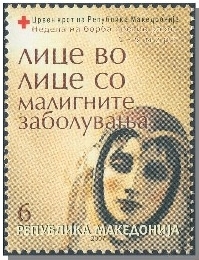 Namibia, 1998
Scott 914
This stamp is being sold on eBay as an AIDS stamp, but is in fact about the extinction of African wildlife. The stamp was used to promote AfriCat, an organization dedicated to protecting African wildlife.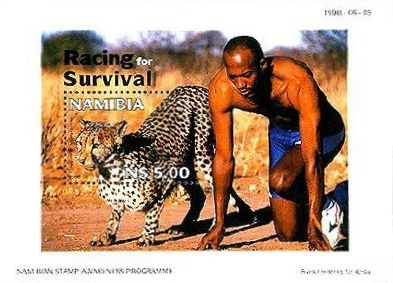 Poland, 2006
Scott 3660
This non-AIDS issue features a pink ribbon for breast cancer awareness, not the red ribbon for AIDS. The Polish word "rak" means "cancer". This stamp has been listed with both the Universal Postal Union and Polish post office website as being about cancer, not AIDS.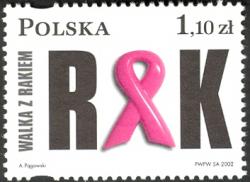 Spain, 2004
Scott number unknown
Several dealers are selling several versions of these on eBay as AIDS stamps, although the writing clearly indicates they are not.

Viet Nam, 1999
Scott 2908
Although at least one dealer has advertised this stamp as pertaining to AIDS, this is an anti-drug use stamp. It commemorates International Day to Stop Drug Abuse.